Pinelli is one of the founders of the Mountain Wilderness International Association, of which he has for 14 years been General Coordinator, and of which he is now one of 23 international Guarantors and Head of the Asian Desk. He has been a member of the national board of WWF Italia for 12 years, and in 2012 accepted the three-year post of President of Mountain Wilderness Italia.
From the late 1980s to early 1990s he was personal advisor to Italian Minister for the Environment Sen. Giorgio Ruffolo on issues concerning the National Parks; he has acted as Vice-President of the Technical Commission for Protected Natural Areas, the highest-level Italian government consultative body on National Parks. He has been a member of the Board of Directors of the Gran Paradiso National Park, and represented the Italian Ministry of the Environment at the "Espace Mont Blanc" cross-border conference (involving Italy, France and Switzerland) whose purpose was to identify the best forms of protection to apply to Europe's highest mountain range. He sat on the commission charged with establishing the borders and zoning of the Belluno Dolomite National Park, and handled the Alpine Club-led reintroduction of the chamois to the Gran Sasso-Monti della Laga National Park.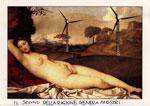 Some years ago he joined a group of friends in opening the website www.viadalvento.org, whose aim is to expose the widespread deception associated with wind turbines.